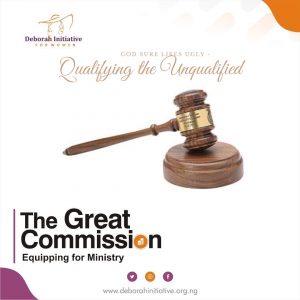 God sure like a 'Ugly'. Qualifying the Unqualified
"Instead, God chose things the world considers foolish in order to shame those who think they are wise. And he chose things that are powerless to shame those who are powerful. God chose things despised by the world, things counted as nothing at all, and used them to bring to nothing what the world considers important. As a result, no one can ever boast in the presence of God."
(1 Corinthians 1:27-30 NLT)
Recently, I came across a book titled "God Nuh Like Ugly" by Nicole Dennis-Benn and the first thought that came to my mind was "God sure likes ugly. This person doesn't know what she's talking about." I ended up reading the book, but I'm not here to talk about its contents.
God's love for mankind is unique – it can be likened to a parent-child relationship. There is a popular Nigerian saying, "Monkey no fine but him mama like am" (a monkey may not be beautiful, but its mother loves it). God loves us, his children, regardless of how 'pretty' or 'ugly' we may be. In fact, it is safe to say that God loves the 'ugly' more. In the parable of the prodigal son, we see how God's love for the ugly is brought to the fore – the wasteful, spendthrift son who squandered his inheritance, was welcomed back home with open arms by the Father.
Many of us feel unqualified for God's love. However, there are several examples of broken and lost people in the bible whom God used for his glory. God loves to use broken repentant people. Vance Havner, a Baptist pastor, once said: "God uses broken things. It takes broken soil to produce a crop, broken clouds to give rain, broken grain to give bread, broken bread to give strength. It is the broken alabaster box that gives forth perfume. It is Peter, weeping bitterly, who returns to greater power than ever".
Have you wondered why Jesus chose each of the 12 disciples? They were surely not all the crème de la crème of their society! We have Peter, Andrew, James and John, all fishermen. Matthew, the tax collector. None of them appeared to be fit to walk closely with the Messiah, yet Jesus chose them and used them mightily. Can you imagine how puzzled the Pharisees and the Sadducees were when they looked at the motley group Jesus surrounded himself with? It is probably why they found it hard to believe he could be the long-awaited Messiah.
Examples abound in the Scriptures of imperfect people whom God used to showcase his glory. Abraham was an old man when God chose him to be the father of many nations. Elijah was suicidal at some point due to the persecution from Jezebel, yet God used him. Moses had a speech problem. Gideon was timid and fearful. Samson was a womanizer. Rahab was a prostitute. The Samaritan woman was a serial divorcee. Noah was a drunkard. Jacob was a cheater. David was a murderer. Peter denied Jesus three times and Paul was a persecutor of the early church.
God sure likes 'ugly'. If you are ever in doubt, read the stories of the lives of these examples in the Bible. Men and women who had the dirtiest pasts and physical impediments. God wants to use you and I. Don't let the devil fool you into believing you are beyond redemption. You are not. Especially if you are currently struggling with sin and the devil constantly reminds you of it. Know today that Jesus wants you to come as you are. As stated in 1 Cor1:27-30, God chooses the despised things. The broken and contrite hearts, the ones who know that all that they are could have only been by the grace of God. Come as you are today. You are worthy. You are loved. You are special to God. He loves every bent, broken, twisted and dirty part of you. He wouldn't exchange you for anything else. You are worthy of His love. You are worthy to be used by Him.
God sure likes ugly.
Writer: Tomilola Adebiyi