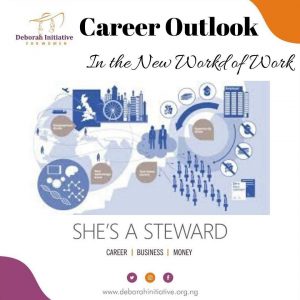 Career Outlook in the New World of Work
Now that we are faced with a mix of certainties and uncertainties in the era of this pandemic; many of us will be asking loud and silent questions, about what now holds for us in our career journeys. People will be challenged with the realities of the rapidly changing work environment; demand to adapt to these changes, as quickly as possible in order to be able to fit into the new work style and structure. For some, it will be the reality of the need for their skill levels in technology, human relations, communication, agility etc.
Beyond the fact that the future of work is already upon us, our individual ability to quickly align with the new realities of the work place, will determine how well and how far we are able to keep up, maintain and improve our relevance in our places of work or businesses.
Some days ago, I attended a career conference where the speaker, Funke Amobi said 'Career resilience means moving away from an old world style of skills acquisition and moving into a deliberate self positioning for skills relevance over time'.
This means that our ability to quickly pick up skills, from the different scenarios we are faced with, must be scaled up, and we must keep pushing to be better in our abilities to think, analyze, proffer solutions, and relate with people. Also, we need to utilize our existing skills and acquiring new ones, appraise ourselves, and keep envisioning our career progress and positioning ourselves for same.
Ask yourself the following.
I. What skill level is needful. Start with the basic requisite transferable skills, basic computer skills etc. Scale the analysis up to the technical skills in your field.
II. Where are you at? How well are you also able to quickly navigate into related careers when needed, and appropriate as this will also give you skills diversity?
III. How quickly are you able to embrace the required skills, and/or go for new learnings? Do you know what you should be learning now in relation to your career goals or the demands of your current job?
We must also begin to look at the network of people that are around us.
IV. How is our professional network? How well do we connect with people and keep that connection? We must introspectively analyze our networking skills.
We ask ourselves if we deliberately invest in these relationships. How well we give back and utilize them. Our network will be the currency we'll use in some career transactions in this new realities. Someone should be able to recommend us for some opportunities. People should be able professionally have our backs, and let us into some updates and trends in our fields.
In all of these, we must consistently trust God, to be generous with insights and directions on what to do, the way to go, as we take steps and make decisions everyday on our careers. We are now in that season and time where we must lean on God more than ever before. He holds the times and seasons of our lives, and has the surest answers to every career and business questions that ponders in our hearts. LET'S TRUST GOD TODAY MORE THAN WE DID YESTERDAY.
Writer: Adenike D-light Leke-Akinbode.