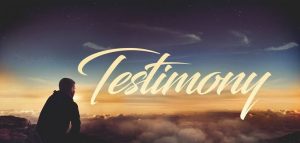 TESTIMONY
During my undergraduate days, God told me that he would open doors for further studies and ministry internationally. I received the word with thanksgiving and continued to pray about it for many years.
In 2015, I sensed it was time to begin to do something in this regard. Also, at the end of 2015 going into 2016, God told us at DIW that it was a good season to apply for further studies and there were going to be many open doors for international study. With God's word spoken to me privately in one hand and the word spoken to us corporately in the other hand, I started researching schools and programs and applying online.
In 2016, I got an admission offer to do a Masters program, but despite applying for scholarships and writing numerous letters to professors, I didn't get any financial aid. I felt disappointed that I couldn't pursue that because of financial limitations. My biggest "beef with God" was "but God, I didn't ask you for international doors to study. I was on my own when you said you were going to do this and you even gave a corporate word that confirmed what you told me privately. Now see what has happened now!"
After my initial frustration with God, I picked up myself and continued to give thanks and pray for His perfect will to be done in this matter.
In 2016, I found out about an organization that offers a fellowship which brings young leaders from Africa into the US for a Masters program, while gaining hands-on work experience. I applied to the program and was selected for the 2017 cohort. This was supposed to be an all expense paid program-travel, tuition and books, accommodation, food, health insurance and stipend. Everything was covered.
As we started the preparations and needed to finalize everything, I started having delays with getting some of the documents that both the organization and the university in the US required. My undergraduate university was not providing what I needed on time. In fact, I was told that the person in charge was on leave and nothing could be done about it until the person returned. Because there were deadlines, I thought I was going to lose this opportunity again because of "the Nigerian system".
I came to Hilltop (DIW's monthly prayer meeting) one Tuesday during this period with this weight on my heart. Through DDK, our President, God gave me words of prophecy. Among other things, God spoke about opening international doors that no man could close. I immediately took that word and applied it to my situation, confessing and giving thanks. Glory be to God, I was able to get the required documents and turned them in before the deadline.
In September 2017, I arrived in the US to begin the fellowship with the organization and the Masters program. One of the things that I noticed shortly after the program began was an unhealthy culture of competition among the fellows in the program and favoritism among the leaders. I started praying for God's favor. I would take prayer walks and declare that the land favors me.
In January 2018, there was a false accusation made against me by a colleague to the leadership. Though some other colleagues that were directly associated with the matter refuted it, I was placed on probation pending a review of the case. During the probation, I went back and forth speaking with the leadership at different levels trying to advocate for myself but nothing worked. I, the lady who made the accusation and the other colleagues involved had a meeting to discuss the matter and the lady said the leaders misconstrued what she said and she believes that they were exaggerating things. I asked her if we could go back to the leaders and clarify things so this would be resolved but she didn't want to.
After two months of probation, in March 2018, barely seven months into the program, I was dismissed, my scholarship contract ended and I was given a few days to leave the accommodation provided. All the organization offered was a flight ticket back to Nigeria which I refused to take. I was asked not to contact anyone that I met through the organization for help to remain in the US. To say the least, I was devastated.
I had no family in the US, a limited network of friends and a lot of constraints on my ability to get a job because of immigration policies. However, I held on to the word that God gave me that he would open international doors that no man can shut. I said to God and myself that this organization may have shut their doors against me but God hadn't.
I sent messages to a few people to tell them about what had happened and many of them advised me to go back to Nigeria because they believed it wasn't possible for me to complete the Masters program. I also sent a message to a woman I had met a couple of weeks before the incident. After asking a few questions, this woman offered to accommodate me for a few months while I figure out next steps. I lived with her for four months RENT FREE and when it was time to move out of this woman's house, God opened another home for me where I lived for 10 months RENT FREE.
I reached out to my university and told them what happened and they agreed to give me a 50% tuition discount.
I supernaturally got part-time jobs that enabled me pay the other 50% by installments without breaking immigration rules. God also supernaturally raised people who gave me little financial support here and there.
In a country where even the citizens drown in student loans years after they graduate, by God, I graduated right on time with my peers, no debt to my name and with a Distinction!
Please if this is not God, tell me who did all these miraculous acts?
I want to end by saying God keeps His promises. He told me many years ago that He would cause ravens to help me and I didn't even understand what He meant at the time especially because I was pretty much an independent and self-sufficient person. As things unfolded in this season of my life and I saw the kind of people God raised on my behalf, I see that God indeed caused ravens (i.e. the most unlikely people) to help me.
I return all praise to Him.