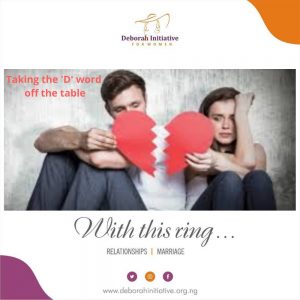 Taking The "D" Word Off the Table
Have you ever felt frustrated with your spouse? Perhaps having the frustration lead to a quarrel, and before it was over, everything had become so overwhelming that you actually began to consider the D word, Divorce?
Marriage can be a beautiful thing and it can also be frustrating. This is partly because it is a place where we sometimes find ourselves at our most vulnerable. Whether working to make it beautiful or experiencing the frustrating side of it, both are hard. Choose your hard wisely. You can make a choice to make yours beautiful. It requires work, Yes!!! You read me right. Conscious, committed and calculated work.
There's no one magic formula to resolve all the issues your marriage might have. However, there are principles you can put to work which will gradually result in tangible improvements.
Jesus said, "Moses provided for divorce as a concession to your hard heartedness, but it is not part of God's original plan. I'm holding you to the original plan, …" Matthew 19:8,9(MSG)
Here, I will share with you the principles you should hold to heart and employ when those ugly situations arise in your marriage:
Remember how the bible says to not give the enemy a foothold?
• Forgive Quickly: Don't let the sun go down on your anger. Agree early with your spouse that you both are in this together for real and are in it together for life.
• Take the D word out of the Equation: Do not threaten your spouse with the word either. Rather, commit to making your marriage work. When it comes to disagreements and quarrels between you and your spouse, be wise and be tactical.
• Know the Actual Enemy: Be smart and know who the real enemy is. You and your spouse are on the same team, you are not each other's enemy, the devil is.
• Create a safe place for each other in your marriage.
• Resolve issues and let there be no carryovers.
• Have a rock-solid resolve to make your marriage work.
• Go hard after the wisdom that you need from trusted sources.
Writer: Oluwakemi Boye-Fakunle