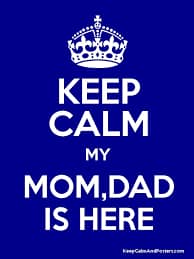 MUMMY WITH A DADDY
Mummy, I am hungry"
"Mummy, can you please help me with my assignment"
"Mummy, please help me clean my butt"
"Sweetheart" or "Mummy" (in dad's voice) do you know where my tie is?
And you will find mummy everywhere in the house, attending to ALL.
Think about this for a moment: mummy, mama, mum, mumsi, mumski – whichever way you called your mother or are now called by your children – that name is used so frequently in the home by everyone much more than any other name.
Before long, you find yourself yelling "leave me alone" "I need rest" "am I the only one in this house" "I also have a mummy"
Hey! You see, you just called mummy yourself, so it is clear that MOTHERHOOD is an UNENDING JOURNEY.
Motherhood, I dare to say, is not restricted to women with biological children. The day you came out of your mother's womb as a girl, the journey of "mumhood" began. You are a mother as a teacher, a neighbor, a friend, a wife, a sister, a colleague… WHAT A PRECIOUS GIFT IT IS TO BE A MOTHER.
However, this journey can be very OVERWHELMING if you do not tread on the right path with the right guide. Which brings me to this point: In every home, there is also a daddy, right? And i am referring to both the physical daddy, your spouse, and the Spiritual daddy, God. You have a guide for this journey and that guide is God. You also have a helper in your spouse.
Sweetheart, you are a MUMMY WITH A DADDY. You have a Father who treasures you, shapes you for this journey, calls you unto Himself, wires and equipped every fiber of you with the strength for the journey.
Ironically, many of us have heard over and over again that the world was made to be unfair to women. As much as we strive to debunk that lie, we may find ourselves unconsciously living our lives based on this mindset. Woman, when you are told "you are worth more than gold", BELIEVE IT! it is not an encouraging statement, IT IS AN ABSOLUTE TRUTH.
Woman, be like Mary who told the angel of God, "behold the handmaid of the Lord, be it unto me according to thy word". Make God the driver of your life. Mary committed her journey through Motherhood into God's hands and God shaped her life. When God told her she was chosen to be the mother of THE SAVIOR, she did not argue or question God. Instead she surrendered. Let this be your posture today, mum. Say to Him " God, you Hand-made me for this journey. Let it be ruled by your will, you are my guide and driver in this journey."
Precious and beautiful woman, you cannot afford to JUST DO IT yourself (it is not Nike). You need your daddy all the way through.
Are you being a super mum? Trying to do it all by yourself even when you know you need help? Ask for help today – from your spouse and God. Stop trying to do it all by yourself. Hand over the wheels to God and allow your husband play his role as a father and husband. Give yourself a treat, relax in His hands and know that God will take you there safe and sound. Stop trying to exhaust yourself from the shouting game, playing nice to avoid being hated, sacrificial lamb business… God knows the whole of it, let Him guide you. While everyone is calling mummy, mummy and you feel like falling apart, fret not! (That is your name), ask for help!
Mum, you have been graced for this journey but you are not meant to walk the path alone. Do you have a sick child? A difficult teenager? An energy- consuming toddler? "Teacher repellent" child? Whatever the category is, learn to ask for help today!
Article written by Sandra Ufuoma Onojetah