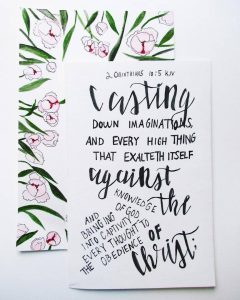 I TAKE CHARGE OF MY HOME
It is noteworthy for us as humans to pay close attention to our moods and the habits we consciously and unconsciously form. The reason is because there can be spiritual dimensions to these things. Once we discern and consistently notice an unpleasant pattern, it is advisable that we pause and determine what the pattern is about plus where is the pattern coming from, hence, we take a stand against it.
Making up of one's mind, determination, will-power, and so on are relevant self-help steps to take a stand against some unpleasant habits. However, it is necessary to point out that some of these habits are spiritually influenced, hence, they should be handled in the same light.
Romans 7:19-24
For instance, individuals slip into depression gradually and the depression becomes a stronghold they can't easily snap out from. An individual might be in a very sociable mood at a moment and express an uncontrollable outburst of anger the next moment.
The wild anger some parents exhibit in the home front is an unpleasant instance here. At times, spouses take out their road rage on their better half. At times, children are not spared as they are at the receiving end also.
Though some of these negative outbursts/habits are spiritually influenced by the chief enemy 'Satan' because the thief comes to steal, and to kill and to destroy…… however, there is good news of our total freedom. Halleluyah!!!
In John 10:10b, Jesus says I have come that they might have life, and that they might have it more abundantly.
The good news is that that controlling spirit can be destroyed. We can break that control!
There is a way out in God! Once we make up our mind to be responsible under God to break off these negative controls, our victory is sure.
Responsibility is the price for greatness as someone said.
Break up your fallow grounds!
"The violent taketh it by force", as we read in Matthew 11:12b
It is a fight! It is a battle!
Let's cast off the works of darkness in our homes.
Please, can we say these prayers over our homes?
1. We cast off every controlling spirit over our lives and in our homes in Jesus name.
Mark 16:17
2. Let's command that they enter no more into our lives and homes.
Mark 9:25
Bible verses: Colossians 3:8-12, Mark 1:27
You have the victory in Jesus name!
Writer: Bukonla Fadahunsi