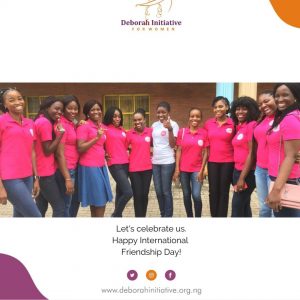 FRIENDSHIP
There is a friend that sticks closer than a brother.
Yes, friendship is true.
Friendship is real!
Friendship is life!
It's international day of friendship!

What is your belief or experience with friendship?
Do you have a friend, have you been hurt, betrayed, jilted or left heartbroken by a supposed friend?
Oh! So sorry friend! Do you feel or have you concluded never to allow anyone close to you again?
Have you shut the door to FRIENDSHIP?
Today, I do not want you to be clouded with the usual feeling of excitement for the wonderful people around your life that you can truly call friends neither do I want you to engage in a pity party for the wrong people and backstabbers you had once called friends.
However, I want you to take a stock of you, yes you!
What kind of a friend have you been to your friends? Are you friendly? Have you treasured the good people God has surrounded your life with or have you taken undue advantage of them?
What are the qualities you desire in your to-be friend? Do you also possess any of these qualities? Are you reliable and consistent? Have you cheered them towards fulfilment of their dreams and aspirations or have you been self-centered and self-seeking in the ship of friends?
Every man bears fruits according to his kind, your type and kind will naturally flock around you and be attracted to you.
Are you a cheat? Welcome to the world of professional backstabbers, master cheaters and certified gossipers.
Do not be deceived whatever a man sows, he shall reap.
Therefore, sow true friendship, be real, fiercely loyal, kind, loving, forgiven and be a cheerleader to your associate. Do not love or befriend people for what you can get from them, rather befriend to invest and impact positively.
Also, note that you can't be a true friend without learning the crucial ingredient of friendship which is FORGIVENESS. To err is human and forgiveness must be the bedrock of every true friendship. Love people for who they are, and when they disappoint you, make room in your heart to forgive and move on…
Don't close any door, always leave room for better days. Do you think this is possible?
Yes, it is. Do you think our constant and eternal Friend don't feel grief when we sin and walk in disobedience? Of course He does. Jesus feels the same pain and the same sense of betrayal any time we flount His orders but still, He ALWAYS lets go.
If truly, you are His, you will have to let go of every hurt, pain and records of evil your supposed friends have inflicted on you. If they genuinely apologized and come back, forgive, if they leave permanently, forgive still and move on with your life.
Have you also hurt someone truly, please choose to call a truce, ask for forgiveness and get back your friend!
Friendship is divine, real, true, and it's refreshing to know someone somewhere cares for you deeply and truly, so be a true friend to your friends and God will bring to your life men like Jonathan.
Above all, befriend the coolest and realest friend I have ever known… JESUS! You will not regret it.
Cheers to years of true friendship!
Writer: Funmi Odetola