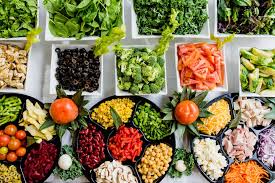 FEAR IS NOT ON THE MENU
The phone rang that Monday morning, I was at work, trying to send out an email at that point in time. I was quite busy but seeing that it was my sister on the line, I answered the call, held the phone to my ears with my shoulder and continued working on my laptop.
"Hello!!!" I said as cheerfully as my work environment would permit me at that time.
"Do you have a few minutes to talk please? I have a few questions to ask", she said. There was a sense of urgency with which she spoke; this conversation was clearly not going to be that flowery, just-for-laughs type of phone call, she sounded quite bothered.
"Ehhhhrrrmmm! If you will just give me a few minutes, I am trying to send out an email. I can talk for a bit once I am done." I answered.
She stayed on the line while I proof read the mail I had already typed and clicked send. I waited for a while to see that the mail had gone and there were no issues before I stood up from my seat to resume the phone call.
I stepped into a private space and then the conversation resumed. At this point of course, my heart was throbbing wildly, majorly from not knowing what to expect from the other end of the phone. She reeled out the first question and it was a direct one; that type that comes straight at you, leaving no room to hide in corners or be 'politically correct'. It required an in-depth explanation and I wasn't ready for it.
My first attempt at answering was a shoddy response wrapped up in big English. I prayed she would find it satisfactory and just move on to the next. Nope! Not my big Sister. She was not having it, she probed deeper and forced me to go through the painful mental journey of reliving an experience I didn't want to, until she got all the information she required.
The first question progressed to the second and then on to many more that came in quick succession. Each question that was asked seemed like a knife was passing through me; personal, family related issues that I had to look in the face and dissect, against my consent. I hung up, but clearly, the telephone conversation left me all pensive and gloomy; it introduced doubts, fears, questions and uncertainties into my heart.
This is us a lot of times as we go through life; we are having a jolly good day, enjoying a significant measure of joy in our hearts, and then, boom! Someone, an event, a phone call, a situation, a thought or some other random stuff comes in and introduces fear into our hearts and then we lose our joy. Sometimes, we cannot discern so quickly that our joy is the target, and by the time we realise it, it's too late, we are already victims, held captive in a joyless estate. We struggle and try to pull ourselves out of this frequency we have been ushered into; sometimes we succeed and get back into our joy-groove, other times we remain down, unable to find a way of escape.
In the simplest terms, fear is an unpleasant emotion caused by the threat of danger, pain or harm while joy on the other hand is simply described as a feeling of great pleasure and happiness; both fear and joy are feelings and they can be managed and regulated, depending on which you feed based on the diet you are on.
The Bible says that "God has NOT given you a Spirit of fear, but of love, power and a sound mind." This means that any fear you ever feel, beyond a reverential fear of God is not from God. Of the huge bounty that God has given you freely to enjoy, fear is NOT Listed. So, why take it when it is not an option? It is not part of your salvation package and should not be welcomed into your life for any reason at all. We often feel afraid when we have unanswered questions, feel pressured, have doubts, experience lack etc. and then our joy reserves are depleted. Regardless of what feeds our fear, we must recognize that God does not give fear. If God does not give fear, then we really have no business being afraid.
For every situation that you are currently dealing with that makes you afraid, take some time to go back to God's Word and see the provisions that God has made for you in that regard and watch how joy will well up on your inside when you swap perspectives. For instance, you are always afraid of death, thinking something spooky will happen to you and you will be cut off in your prime. How about you internalizing and accepting the fact that God has promised to satisfy you with long life and show you his salvation? Doing this deliberately and consistently will up your joy reserves.
Whenever fear is being served you through the television, newspapers/blogs, family and friends etc., please pass on it, it's not yours to receive.
Guard your heart and your joy fiercely this weekend.
Writer – Funmi Owo