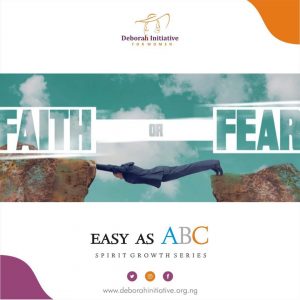 Faith over Fear
Here is a conversation between an older and a younger woman:
✔️ The way things are going it's so scary, ehn!!
✔️ Of course ma, it's obvious Jesus Christ is coming very soon
✔️ Hmmm, I have told Jesus Christ to come NOW oh if he wants to. Now that I am still RIGHTEOUS SMALL.
✔️ Lol!!! Ma, that's really funny. Jesus will definitely come one day but for people WHO BELIEVE IN HIM, and who have and are continuing IN FAITH with him….
The world as at today is in a great PANIC, the spirit of fear has been unleashed like wildfire and so many people are buying the lies this spirit is selling. Sadly, believers also seem to be affected. Someone defined fear as FALSE EXPERIENCES APPEARING REAL (F.E.A.R). Are you saying all that is happening is FALSE? Someone will ask. Obviously, the answer seems to be a capital NO, but considering the REALITY in God's kingdom, the answer is YES in capital letters.
When Jesus was teaching about the End Time, he made it clear in John.16.33 – These things I have spoken unto you, that in me ye might have peace. In the world ye shall have tribulation: but be of good cheer; I have overcome the world. After all these things, He says "Fear not for I have overcome the world".
What a COMFORT!!!
So, what is the reality? The simple fact is a believer's reality is what he or she chooses to do or walk on or believe in these times. In 2 Timothy 3: 13-14, it made it clear: "But the evil men and sorcerers will progress from bad to worse, deceived and deceiving, as they lead people further from the truth. 14 Yet you must continue to advance in strength with the truth wrapped around your heart, being assured by God that he's the One who has truly taught you all these things". (The Passion Translation)
It's good for us to listen to the news and get ourselves abreast with the current happenings, but THERE IS THE REAL REALITY – THE GOD KIND OF REALITY. The scripture says in Romans 10:17: "So then faith cometh by hearing, and hearing by the word of God." (KJV). Something must resonate in our hearts and be revamped in mouth as believers: THE TRUTH, THE WORD OF GOD, which should re-echo at all times in our hearts, and not just limited to this time. Maybe, you feel too overwhelmed to open the scripture, NOW IS THE TIME TO FIGHT A GOOD TIME FOR YOUR FAITH!!!
So, what are you waiting for?
Please share with us what you feed on in order to grow your faith.
Let's do this together.