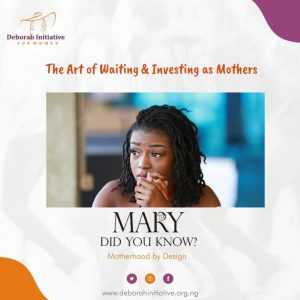 Waiting and Investing in Motherhood
Dear Momma,
How your side? And your yard people, hope everyone's doing well? Thank you for taking time to read this article. Following the prompting of the spirit, I want to encourage you. Scripture says in Isaiah 40:31 that "But those who wait for the LORD [who expect, look for, and hope in Him] Will gain new strength and renew their power; They will lift up their wings [and rise up close to God] like eagles [rising toward the sun]; They will run and not become weary, They will walk and not grow tired."
Every time I read this scripture, I see that the Lord is mindful of our journey as Christians, and this includes activities our hands find doing. It is a proof that God wants to be there with us all the way, helping us succeed, as we rely on His strength, power and Spirit. The only thing we have to do is wait! That's the only requirement – learning to wait on Him for renewal of strength. This strength isn't even just about physical strength, it includes mental, spiritual and strength of character.
Motherhood means a lot to God because it is His avenue for raising generals for Himself. This makes it exclusively spiritual, so by no human strength shall any mother succeed. We need God to help us nurture these precious gifts in His way and His way alone. How do you describe your motherhood journey? Judge yourself not Sis, just do a sincere evaluation of what you've been relying on and if you depend on God for wisdom and direction concerning raising your child (ren). The Lord who gave you these gifts to raise as godly seeds, has qualified you for the assignment and has endued you with power and strength.
So when you feel the overwhelming pressure to perform as a mother, don't lose it yet. Wait on God for renewal of strength. When you are at lost on what to do about your child's academic abilities, don't let go of your hope, wait on God. If you see a character flaw in your child, be reminded that he belongs to God, wait on Him. When you are about to make a major decision regarding your child, don't forget that God has the volume of books written concerning him. Wait on the One who gave you such a precious being. May your strength not be small in the day of battle and may you be strong when you need to stand for your own. All you have to do is wait. The promise of waiting is that you will mount up with wings as eagles.
Eagles soar above all else. Imagine you soaring above everything that wants to slow you down or suppress you; think about you soaring above challenges that belabor every other mother, just because you chose to wait on God for strength.
As you practice the art of waiting on God as a mother, investing is another art you must embrace and be conscious of. Investing must be a deliberate lifestyle of a mother who sees her children as godly seeds. She will invest into their future with prayers, positive words, scripture-inspired confessions etc. I encourage you not to get carried away by life demands to the end that you forget the investing part of your motherhood. While it is called today, there would be always be a tomorrow. Tomorrow happens happily to those who expect some positive outcomes of their deliberate acts of yesterday.
Dear Mama, God's got you and He will never leave you. In the midst of life bustling, you can never miss it waiting on God! So wait. You have an assurance of a beautiful tomorrow in God for your children if you invest today. So, invest.
Grace and peace be multiplied to you and I.
Writer: Adenike D-light