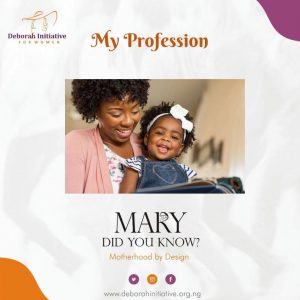 MY PROFESSION
How is your work?
How do you work?
What value do you accord to your work?
What is the vision about it?
Are you investing into the work?
Your honest answers to the questions will show the WHYS that made you settle for this work. Yes, the WORK. The same applies to the answers you will give if you are asked about this HONOURABLE PROFESSION: Mummyist, Mumology, Mumtor… give it any title you want, we all know to be a mummy is a WORK.
Maybe we should ask; why did you become a mum or why do you want to be a mum? Is it to:
Answer the title "mummy" beautiful!
To tell the in laws you are not a man? hmmm
To showcase your fruitfulness? It's God's will.
All of the above and many more reasons are good to say are the reasons of becoming a mother but when you take a closer look at it and I believe Mary, mother of Jesus would tell us it is a GODLY PROFESSION, IT IS A WORK. Many of us don't like that term "Work" but the reality is that, it is the truth. However, the blessed thing is that we have AN EMPLOYER with a complete manual for the job. Hallelujah! In a part of this manual (the Bible) it's stated "Lo, children are an heritage of the Lord, the fruit of the womb is His reward" Psalm 127:3.
When you read the previous verses, you will see where God's word was talking to us about Work. How best we should work? Who should be our stand point when working? Only immediately after, God starts talking to us about CHILDREN. Do you see this? Selah! So children are a heritage (possession, property…) of the Lord. They are God's love gift to us; to cherish and tender, to prune and order, train and treat… God entrusted such a huge reward, inheritance, gift to us as his children. It's obvious that this is not a joke.
He went further to say, as arrow in the hand of a mighty man…
Sis, arrows are not just mere children toys for practising playtime skills. Arrows are meant to be used by grown-ups, mature minds, skilled hands because they (children) are meant to meet their target. It's when the work for an arrow is pulled and meets its destination that the man will be happy according to the succeeding verse (we should take some minutes to read the whole chapter).
This is leading somewhere. One of the things we know that can sharpen the arrow is OUR CONFESSION. Yes, our confessions sharpen this heritage (possession, property, gift) given to us by the great master.
What have you been saying lately over these children?
What have you crafted for them to be saying?
What have you allowed others to be speaking over them?
Consciously or unconsciously; our thought, words and actions are building momentum for our children. Most especially OUR WORDS. Sometimes, the pressure gets overwhelming that we want to speak wrongly at that moment but you see OUT OF THE ABUNDANCE OF THE HEART A MAN SPEAKS. Today can be a new start for us.
Begin by filling your heart consistently with God's word.
Speak the truth of God's words even when the situation around seems terriblY contrary.
Create a list of confessions for the children to say about themselves according to God's word.
Build an atmosphere of spirit filled words around them: the games they play, the videos they watch, the music they listen to…
Read stories to them that focus on the character of Christ.
Remember we have an employer in this WORK. He's got the complete strategy to make us work the work effectively.
LEAN ON HIM. ASK HIM. LEARN OF HIM. And he will guide you through. Cheers!
What action points are you going to take up today? You can share your thoughts with us in the comment box. Let's do this together Sis!
Writer: Sandra Ufuoma
#OurProfession
#WeHaveAnEmployer
#OurChildrenAreArrows
#MaryDidYouKnow
#DeborahInitiativeForWomen