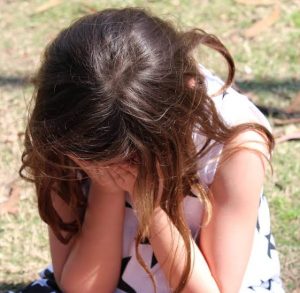 HELP! I THINK I AM DOING IT ALL WRONG
The sound of her cries made me shrink. I wished I could just hold my nose and disappear like the Rentaghost clan. Sigh! Not again! You mean you are hungry again? No one warned me of the pains that come with breast feeding; the sleepless nights, the fear of losing my entire being just to attend to a little helpless baby who fully depended on me for EVERYTHING and I mean EVERYTHING!
My few tears soon became a heavy flow rolling down my cheeks as I fed my daughter, wishing she didn't have to be fed so often, added to the pain of recuperating from childbirth and the sheer torture of this entire experience. I was overwhelmed, stressed and totally disconnected from everything.
The entire experience changed my perspective of my abilities (and my failures) in a way nothing had before then. I had the same concern that has bothered every mother from generation to generation — I think I am doing it all wrong. I questioned all my actions; felt I was either not doing enough or not giving myself enough, felt betrayed by my abilities to conquer all and do it perfectly without dropping the ball. As it were, it was as if I had dropped all the balls. With a deep sigh I said the dreaded words to myself "I think I am doing it all wrong".
Looking down memory lane to when my Princess was still a baby, I have come to terms with reality and the need to embrace every phase of my journey as a Mother. Each milestone comes with its own unique and customized challenges, pains, tears, joy and laughter. My Motherhood Journey has taught me to: enjoy this adventurous journey, journal the outcomes of the lessons and embrace this amazing responsibility of Motherhood that has been designated to me.
Being a mother has enhanced all my sensory organs, making me transform like the Incredible Hulk. Don't be deceived by my petite size as I transform to Superwoman within seconds of hearing my baby's cry with my supersonic hearing, preventing dangers with my x-ray vision and catching my baby from falling with my superhuman speed, how about multitasking and eventually turning my two arms into the eight of an Octopus. Having a baby has unveiled so many hidden super powers that I never knew I had.
Over the years I have learnt many lessons that have been captured on the scroll of my heart, and eventually, have led me to enjoy the journey. A few are listed below:
When you think, 'Am I doing things right?' — Remember One size doesn't fit all situations. People have their different opinions and often feel they are helping by verbalizing them out loud, trying to validate their choices and opinions. Super woman you get to decide what works best for you, your baby and your family. Do not run with the photocopy approach as your journey is totally different from the paths others have walked or presently walk.
When the grass seems greener on the other side — Focus on tending your own garden based on your own routine. Comparison will only make you feel overwhelmed and depressed, focus on working on your own routine to suit your own season.
Trust your intuition — When you are in doubt, reach out to a Doctor and absolutely switch off the need to go to the most famous Doctor, i.e. Google to get answers because a lot of information, some of which are widely exaggerated get tossed at you and eventually lead to panic mode. Darling, keep your sanity. You can research but confirm the symptoms from a Medical Doctor before activating panic mode.
Find your Tribe — Having a supportive tribe of experienced women whom you can cry to cannot be over emphasized. The freedom to absolutely surrender and be vulnerable, takes a whole lot of weight off your shoulders. The shared experiences is a huge vault for the rainy day.
Don't be too proud to ask for help — Yes, it is a measure of pride, especially when you feel you can handle it all without the need for help. Having support is important. Do not under estimate how energizing an hour of sleep can be while someone watches over your precious one. Relax, breath and enjoy your time of rest. Yes, you can do it all but sometimes it is in taking out time to relax that you accomplish so much more.
Enjoy the journey, Superwoman — Soon, the dependent babies will be off on their individual paths. All you would have left are your memories. Savour the smiles, laughs, hugs and kisses from your little one. Soon it will be the last as they become too cool to be seen doing that.
Finally, enjoy some ME time — A movie, a sumptuous meal, a date, a book, a song. Absolutely make out time for you. Every Superwoman needs to be re-energized for the various adventures ahead.
I am so proud of all the experiences, memories and all the fun stuff that are yet to happen. When next you find yourself saying "I think I am doing it all wrong", Smile, come back here and pick some of the above. Relax and enjoy the moment without being too hard on yourself.
#motherhood #mamatips #tools #diy #lifehacks #WomanCrushWednesday #wcw #deborahinitiativeforwomen